HORSE RIDING, TRAINING ,SALE AND ADOPTION.
Kadathanadan Kalari Sangam focuses on the horse-human bond, trust, leadership, and friendship while training and riding horses. We believe a gentle bond, along with a spiritual connection with these majestic creation, is the medium to a well behaved, loving companion for life. Starting with a solid foundation of fun, engaging groundwork then moving on to riding is our way of establishing a strong bond between human and animal.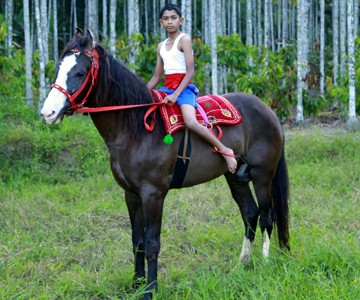 Our farm specializes in meeting the needs of the beginner rider with a firm foundation of riding principles to take them to any level of riding they are looking for whether it be the pleasure rider or the competitive rider. We welcome visitors. Let our family here at Spirit of the Horse help you to reach your equestrian dreams and make them a reality. We offer a facility with a family oriented environment for all of our programs. The farm is kept up to date through constant improvements. We offer every aspect of riding for the horse enthusiast.

We sell all Indian breeds (Marwari, Kathiawari, Sindhi), Thorough breed, pony horses and baby horses. We can also provide riding apparels and horse care accessories. If you are new to the horse world we give advice in which horse is better for your needs or riding conditions.
We also offer to attend various events with the horses, such as celebrations, photo shootings or be part of documentaries, movies, etc. Please contact us if you are interested in any of these offers.
Benefits Of Horse Riding
1- Improve core strength
One of the most important muscles involved during riding is the core. It helps you to keep a proper posture when riding and also allow you to stay balanced on the horse.
2- Build self-confidence
Becoming a rider takes practice, patience and developing a good relationship with your horse. While working on these skills you also become more self-confident by obtaining little improvements every day.
3- Develop coordination
While practicing this sport not only you need to coordinate your movements but you also need to guide the animal around obstacles at the same time
4- Get body fit
Riding exercises muscles that you didn't know you have! Even if it feels that you are doing nothing, horseback riding involves a lot of different parts of the body for guiding the horse, keeping balance or even changing directions.
.We are located in Mananthavady, Wayanad, Kerala, South India.