TOP TOURIST DESTINATIONS IN WAYANAD KERALA
Kadathanadan Kalari Sangam is situated in Wayanad, Kerala, which tourism is growing year after year attracting visitors from all over the world. The place is especially attractive for its natural beauty and favorable climatic conditions.

Some of the nearest tourist points form Kadathanadan Kalari Sangam. Wayanad, Kerala
kerala tourism package –
Chembra Peak
Chembra Peak is the highest peak in Wayanad, at 2,100 m above sea level. Chembra is located near the town of Meppadi and is 8 km south of Kalpetta.Get Directions. The Kerala Tourism Council can arrange guides and trekking equipment for hire. You can get to the peak by foot from Meppadi after contacting the South Wayanad Forest Development Agency. On top of the Chembra mountain (Chembra Mala) you can find a beautiful love shape natural lake and enjoy some breathtaking views.
---
Padinjarathara, Kerala 673575
Dam, which impounds the Kadamanthodu tributary of the Kabini River, is part of the Indian Banasura sagar Project consisting of a dam and a canal project started in 1979.Get Directions. It is only 26 km from our school and the main idea when building this dam was to provide water to surrounding towns and feed the hydroelectric power plant. It is the biggest earth dam in India and the second biggest in Asia which makes it one of the top attractions of tourism in Kerala.
---
Mananthavady, Kerala 670646
Thirunelli Temple is an ancient temple dedicated to Lord Maha Vishnu on the side of Brahmagiri hill in Kerala. The temple is at an altitude of about 900m in north Wayanad.Get Directions. Situated 32 km from Mananthavady, it is surrounded by mountains and beautiful forests. It is situated at 1000 meters above sea level and it can be reached driving through 3 wildlife sanctuaries. The temple was part of an important town and pilgrim center in South India.
---
Vellarimala, Kerala 673577
Soochipara Falls also known as Sentinel Rock Waterfalls is a three-tiered waterfall in Vellarimala, Wayanad, surrounded by Deciduous, Evergreen and Montane forests.Get Directions. The name means Needle Rock and it is also use for rock climbing. During summer the amount of water flowing is less which makes it easier to reach.
---
Lakkidi is the gateway of Wayanad district of Kerala state,South India. Lakkidi is one of the highest locations in Wayanad. It is situated 700 m above mean sea level and it offers some amazing views of the valley.Get Directions. Usually monkeys are hanging out in this area.
---
Edakkal Caves are two natural caves at a remote location at Edakkal, 25 km from Kalpetta in the Wayanad district of Kerala in India's Western Ghats.Get Directions. The rare writings inside the cave are believed to be at least 8000 years old and are the only of its kind in South India, attracting tourism from all over the state of Kerala and neighbours states.
---
Banasura Hill – One of the best tourist destinations in Kerala
Padinjarathara, Kerala 673575
Banasura Hill is one of the tallest mountains in the Wayanad district of Kerala, India. The hill is named after Banasura, a mythical character of Indian legends.Get Directions. Mananthavady is the closest town at 25km away, where you can find many state transport options.It takes about 3 hours to reach the top by foot and once there you can enjoy the view of Banasura Dam. This hill is only 27 meters lower than Chembra Peak, the tallest in the area.
---
Kunnathidavaka, Kerala 673576
Pookot is a natural freshwater lake nestling amid evergreen forests and mountain slopes at an altitude of 770 meters above sea level, in Wayanad, Kerala.Get Directions. It is an important tourism destination in Kerala due to being the smallest and highest natural lake in the state.
---
Kuruvadweep is a 950-acre protected river delta on the Kabini River in the Wayanad , Kerala. It's the only island surrounded with naturally purified water source in Kerala.Get Directions. Also known as Kuruva Island, it is located only 9 km from our school. When visiting the island you can find a numerous variety of flora and fauna. The entrance to the island is restricted and controlled by Kerala Forest Department and it is closed from May to December due to the monsoons.
---
Thondernad, Kerala 670731
Meenmutty Falls is located 29 km from Kalpetta in Wayanad District in the state of Kerala, India. It is a three-tiered waterfall with a height of 300 metres.Get Directions. During the rainy season they become dangerous because of the powerful water flow and many people have died already.
---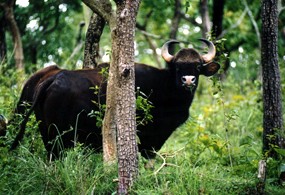 Sultan Bathery, Kerala 673592
Wayanad Wildlife Sanctuary is an animal sanctuary in Wayanad, Kerala. It has an extent of 344.44 km² with four ranges namely Sulthan Bathery, Muthanga, Kurichiat and Tholpetty.Get Directions. It is home for a big variety of wildlife such as elephants, tiger, deer, indian bison and some unusual birds. The sanctuary is part of the NIlgiri Biosphere Reserve being part of Kerala, Karnataka and Tamil Nadu states. It is located 20 km from Manantahvady.
---
Kanthanpara water falls is a unique picnic spot where you could spend quality time with your family or friends. There are two waterfalls surrounded by plantations and the forest which makes this place secluded and extremely relaxing.Get Directions
---
The naturally beautiful Karalad Lake is located in Thariode and about 16 kilometer away from Kalpetta and 3 km away from Banasura Sagar Dam. This is the second largest fresh water lake in Kerala after Pookode lake.Get Directions
---
Koodalkadav,Kerala 670646
The Kabini, also called Kapila, is a river in southern India. It originates in the Wayanad by the confluence of the Panamaram River and the Mananthavady River.Get Directions. It flows eastwards towards the state of Karnataka. It forms an island called Kuruva which is an uninhabited wildlife reservoir.
---
Puliyarmala, Kerala 673122
Anantnath Swami Temple (also known as the Puliyarmala Jain Temple is a Jain temple located at Puliyarmala, 6 km from Kalpetta in the Wayanad district in the state of Kerala.Get Directions
---
Vaduvanchal, Kerala 673581
The Meenmutti waterfalls, gushing down and then flowing in cascades further down its course is an awesome sight to watch from this viewpoint near Vaduvanchal in Wayanad.Get Directions
---
Ambalavayal, Kerala 673593
Wayanad Heritage Museum, also known as Ambalavayal Heritage Museum is a museum at Ambalavayal, 12 km south of Sulthan Bathery, in Wayanad district, Kerala, India.Get Directions. The Museum displays tribal relics and artifacts ranging from the Neolithic age to the 17th century.
---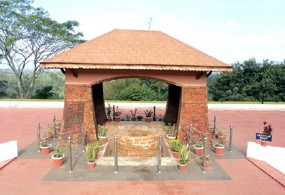 Mananthavady, Kerala 670645
Pazhassi Raja was born as Kerala Varma and was also known as Cotiote Rajah and Pychy Rajah. He was one of the earliest freedom fighters in India.Get Directions. The tomb is situated on the banks of Kabini river and it has a beautiful garden to sit and relax during the visit.
---
Karapuzha Dam– Tourism attraction in Wayanad, Kerala
Ambalavayal, Kerala 673593
Karapuzha Dam located in the Wayanad district of Kerala, is one of the biggest earth dams in India. Karapuzha Dam is located in the greenish and natural regions of Wayanad on the Karapuzha River, a tributary of the Kabini river. THe main goal of the dam is hold water for irrigation and the construction was completed in 2004.Get Directions
---
Brahmagiri Hills, Kerala 670646
Situated at an altitude of 1740m and accessible only by trekking, Pakshipathalam (Pakshi means bird and Pathalam means underworld of the demons) is home to several species of birds and is an ornithologist's paradise.Get Directions. It is located 32 km away of Kalpetta and it has a cave that is believed to be used by saints a long time ago.
---
Thirunelly, Kerala 670646
The river begins as a spring in the Brahmagiri Hills region near Tirunelli Temple. It meets the Kalindi River of Kerala (not the more famous Kalindi which is also known as Yamuna).Get Directions. The name means washes away all sins. It is a very famous pilgrim destination.
---
Above 500 year old Korome Mosque is actually built in the traditional Hindu Nair style. The colors, carvings, steps, and all hold similarities to ancient temple architecture.Get Directions. It is located 23 km away from Mananthavady.
---
Pallikkunnu, Kerala 673122
Church is a famous pilgrim centre of north Kerala. This Latin Catholic church in the name of 'Our Lady of Lourdes', was built by a French priest Fr. Jefreno in 1908 at Meenangadi.Get Directions
---
Phantom Rock is one of the tourist destination close to Ambalavayal in the Wayanad district of Kerala.This rock naturally resembles a skull, and thus it is known as Phantom Rock.Get Directions. It stands 700m above sea level. It is close to Edakkal caves and 17 km away from Kalpetta.
---
This temple was an ancient religious center for Jains in Wayanad. Though severely damaged, the temple has excellent stone sculpturing tradition prevalent in ancient times.Get Directions
---
Mananthavady, Kerala 670645
Valliyoorkavu is an ancient temple located high in the Hills at Valliyoorkavu, 3 kilometers from Mananthavady town of Wayanad district in Kerala.Get Directions
---
Kidanganad, Kerala 673592
Visitors walk through a great display of nature to reach the waterfall. Great many trees stand proudly over a grassy landscape. Colourful butterflies and birds fly around.Get Directions
---
The temple was constructed during the period of the great warrior Kerala Varma Pazhassi Raja. The temple pond is one of largest in Wayanad, Kerala.Get Directions
---
Ambalavayal, Kerala 673593
The Regional Agricultural Research Station is located in Ambalavayal town is part of the Kerala Agricultural University. This station conducts research on spices, tropical, etc.Get Directions
---
Kunnathidavaka, Kerala 673576
Once during the colonial rule, Lakkidi was a secret route for local adivasis of Wayanad. An English engineer took help from a local chieftain called Karinthandan…Get Directions