HORSE TRAINING, RIDING, SALE AND ADOPTION.
Kadathanadan kalari sangam focuses on the horse-human bond, trust, leadership, and friendship while training and riding horses. We believe a gentle bond, along with a spiritual connection with these majestic creation, is the medium to a well behaved, loving companion for life. Starting with a solid foundation of fun, engaging groundwork then moving on to riding is our way of establishing a strong bond between human and horse.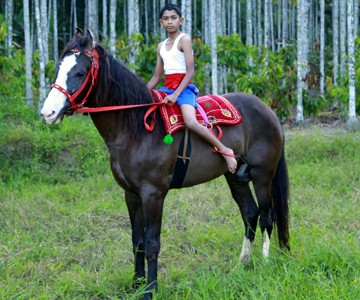 Our farm specializes in meeting the needs of the beginner rider with a firm foundation of riding principles to take them to any level of riding they are looking for whether it be the pleasure rider or the competitive rider. We welcome visitors. Let our family here at Spirit of the Horse help you to reach your equestrian dreams and make them a reality. We offer a facility with a family oriented environment for all of our programs. The farm is kept up to date through constant improvements. We offer every aspect of riding for the horse enthusiast.

We also offer to attend various events with the horses, such as celebrations, photo shootings or be part of documentaries, movies, etc. Please contact us if you are interested in any of these offers.