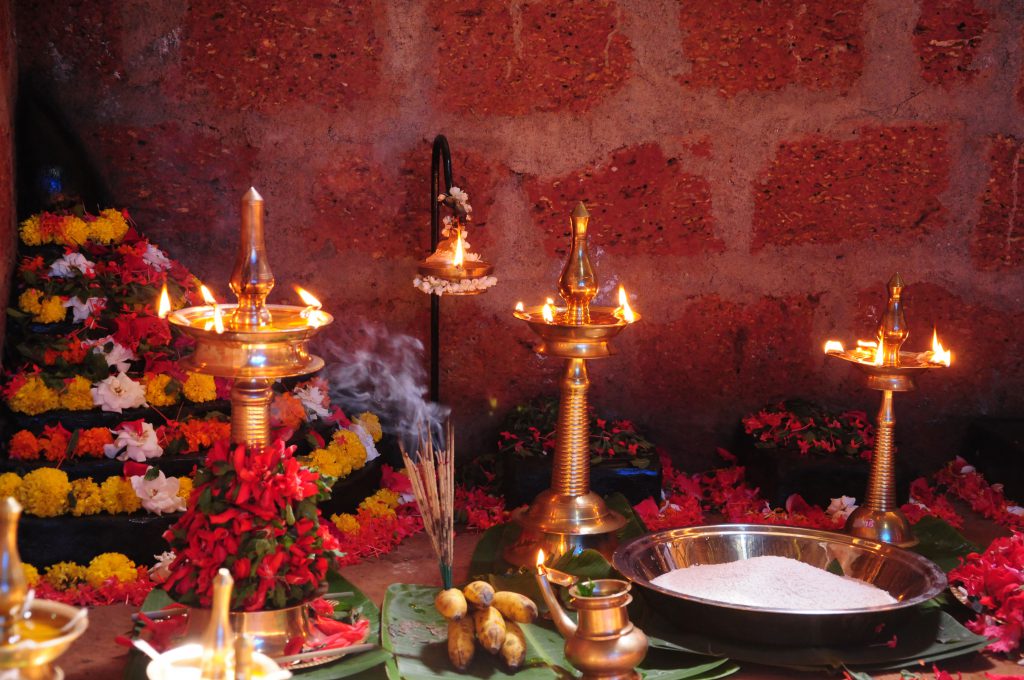 KADATHANADAN KALARI SANGAM
SCHOOL OF KALARIPAYATTU
Kadathanadan Kalari Sangam was established in 1949 at Vadakara, Kerala. The sangam was established by Sri V. Sreenivasan Gurukkal, Raghavan Gurukkal, Dhamu Gurukkal, and Valappil Karunan Gurukkal. From this lineage, the knowledge of Kalaripayattu was passed on and still lives on in the Kadathanadan Kalari Sangam that we practice in today.



V.SREENIVASAN GURUKKAL
.V.Sreenivasan Gurukkal arrived in Wayanad from Vadakara in the year of 1962. At this time, martial art training was not available in Wayanad. He started several Kadathanadan Kalari Sangam centers in various areas around Wayanad. He was responsible for the spreading of the arts of kalaripayattu fighting skills, kalaripayattu healing treatments and kalaripayattu marma(pressure point) therapy. His knowledge of Ayurvedic Science was vast, he was able to identify ayurvedic herbal plant medicines as well as being versed in the preperation of these plants into medicines.
M.A. VIJAYAN GURUKKAL
M.A Vijayan Gurukkal was a pioneer in the field of Kalaripauyatu in Wayanad. He learned this martial art under the guidance of V. Sreenivasan Gurukkal. He was also trained by eminent teachers such as V.P Rakhavan Gurukkal and Valappil Karunan Gurukkal. He became a martial art Master in the year of 1977 and established Kadathanadan Kalari Sangam, the location of our current training center, in the year of 2000 at Kammana. He is known to be skilled healer and a great practitioner of Indian spirituality as well.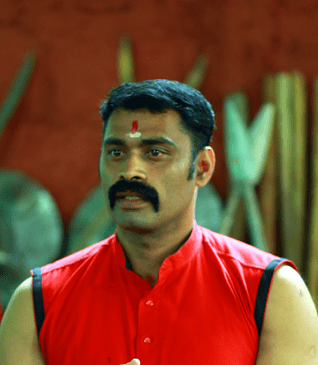 K.F THOMAS GURUKKAL
K.F Thomas Gurukkal is the current Chief Master trainer and proprietor of Kadathanadan Kalari Sangam. He was trained by M.A Vijayan Gurukkal, the founder of the Sangam. He furthered his knowledge and skills with such respected masters as Sri V. Sreenivasan Gurukkal, V.P Rakhavan Gurukkal Vadakara, and Sajeevan Gurukkal. He also traveled all the way to Kanyakumari, Tamil Nadu to learn kalaripayattu from well known Master, Mani Gurukkal. Along with his kalaripayattu training, K.F.Thomas Gurukkal also began a study of the spiritual practices known as Kriya Yoga from his teacher, Soryanda Baba of the Himalayas. He continued this study for 5 years and continues this practice today. He is also very proficient in Karalipayattu marma massage therapy, gathering and preparing the medicinal ayurvedic herbs himself from which the oil for this treatment is made.




C.K.Sreejith Gurukkal, T.N. Nishad Gurukkal, M.S. Ganeesh Gurukkal,and E.A. Anoop Gurukkal are the present masters of Kadathanadan Kalari Sangam. They have been thoroughly trained over many years some since childhood, by the Master K.F Thomas Gurukkal himself.




The Kadathanadan Kalari Sangam is located on a beautiful 4 acre farm in Wayanad, Kerala in a lovely little village called Nalloornade about 100km from Calicut. The farm where the training center is located grows many fruits, vegetables and spices. Among the many crops growing here are coconut, mango, guava, passion fruit, jack fruit, chikku, cabbage, beans,cucumber, tapioca, pumpkin, bottle gourd, cocoa, coffee, black pepper, cloves, ginger and cardamom. There also many animals living happily here. There is an Indian Marwari horse, a Indian murrah water buffalo, a cow, 5 adult goats and 4 baby goats and two sweet, gentle dogs. The farm is also home to many wild species of birds for the avid birdwatcher.


Food and Accommodation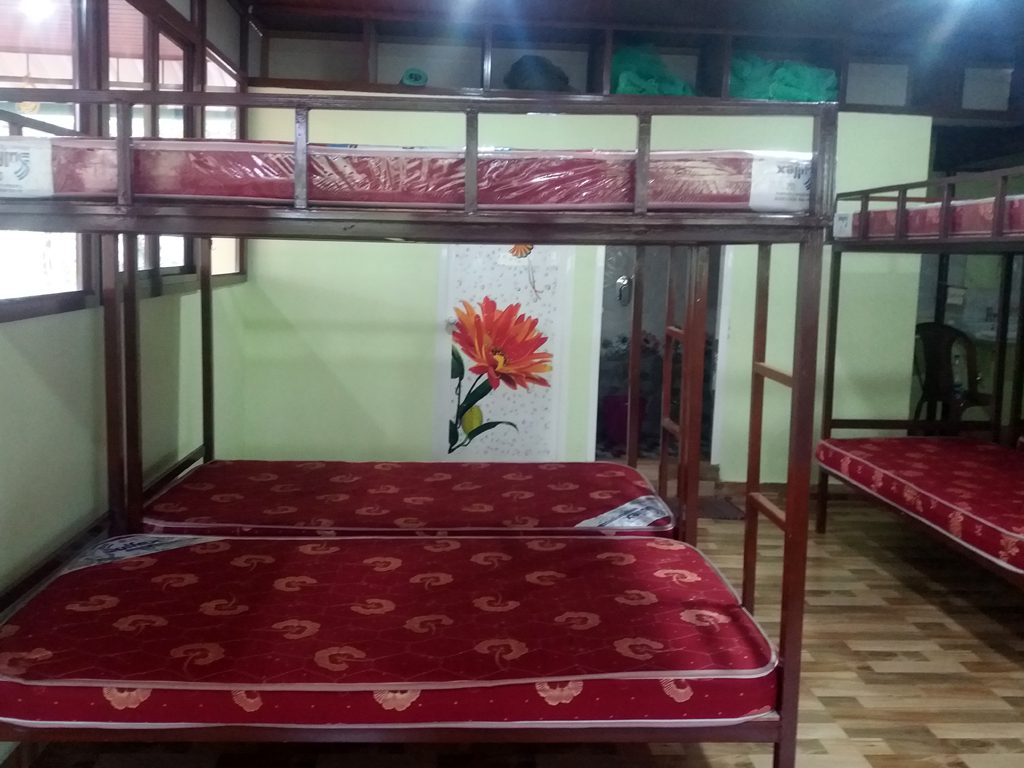 The home where you will be staying follows the traditional Indian format of an extended nuclear family. During your stay, you will be made to feel like one of the family, which includes Gurkkal Thomas K F Vinod, his wife(who prepares the delicious, nutritious meals), his mother and father, and his two lovely boys(13 and 6 at the time this was written) who are also students of kalaripayattu. His brothers, sister, and a myriad of cousins who are always dropping by. The feeling of community is strong here and is a magical part of the experience.
Accommodation-Your stay at the training center includes a comfortable bed in a dormitory style room with the capacity to sleep 14 students in bunkbeds. Also available are two single rooms in the main house. All rooms come complete with fully functioning conventional toilets and stand-up showers. There is also a washing machine to keep your clothes clean and fresh after a hard dy's training.
Food- 3 healthy, delicious meals home cooked in the Kerala style of South India. For those with dietary concerns, or if you simply wish to cook your own meals, there is also a fully functional seperate kitchen available to the students. Chai(Tea) or coffee is available once in the morning and once in the evening if so desired.


Things to see during your stay
Pazhassi Raja Tomb
It located 4 kilometers from the farm. Pazhassi Raja, born in the year 1753, was one of the first great freedom fighters in India and is remembered for leading a successful guerilla war, using the battle skills and knowledge of Kalaripayattu, against the British controlled East India Trading Company. This was known as the Cotiote War. This war began due to the East India Trading Company imposing an exorbitant tax in areas whose independence had already been recognized. The military prowess and fighting skills of Kalaripayattu warriors forced the Company to sue for peace.


Veerahuthi of Pazhassi Raja
Refusing to surrender and surrounded by British troops, Pazhassi Raja took his own life in the warriors way called Veerahuthi, he was 52 years old. In this case that consisted of Pazhassi Raja taking his sizable diamond ring from finger and swallowing it thus bringing about his death. His body was brought to Mananthavady and placed in the tomb that we may still visit today. The tomb also has a small historical museum commemorating his life and death.
Valliyoorkavu Temple
This temple located 1.5 km away. It is dedicated to the goddess Durga. There is a two week annual festival here beginning mid march. On the last day of the festival local folk art and dance with native percussion instruments is held. This festival is very important to the tribal people in Wayanad. The temple is very close to the banks of the Kabani river.
Tholpetty Wildlife Sanctuary
About 24 km away, is home to many amazing and beautiful species native to Kerala. One of the main attractions, the elephant, can often be seen wandering the park peacefully. Other animals one might see include tigers, and bears often found in large groups as well as wild boar, wild buffalo, monkeys and the picturesque peacock. As always, an amazing variety of wild bird species can be observed.


Anywhere in the area you may simply take a walk for your pleasure. The many beautiful homes, exotic plants and flowers and lush landscape will not disappoint. The locals are curious and extremely friendly, many of whom speak enough English to hold pleasant conversation as you trade ideas and cultures with each other.

Other Nearest Tourist Points