Cultural mentality-Society around the world tends to be patriarchal(controlled by men) and the mentality of such a society will always put men first. The wants, needs, and in this case the safety of women are sometimes not addressed at all and worse, women are often blamed for their own victimization. Culturally boys are raised to believe they are superior and that women are here to serve their needs. Girls are taught to be subservient, docile and quiet. This is obviously incorrect and shameful thinking but unfortunately it is the prevailing sentiment. To change the cultural thinking of any society may be beyond the realm of possibility of most individuals so to help assist this change we may start with something less daunting, ourselves.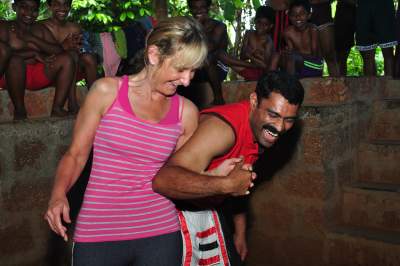 We may re-align our own thinking and the way we see ourselves and each other. We may support correct thinking, words and actions towards woman and strongly oppose those old paradigms which only demean us all. One specific action we may take as individuals and in this case women, is to learn to protect ourselves from physical violence through the practice of self-defense Size and Strength- Generally speaking, the physique of men differs greatly from women in that men tend to be bigger, stronger and more inclined to aggression. Without positive cultural mores(moral values) this will inevitably lead to violence and sexual assault on women. In the world of martial arts. it has long been known that the size or strength of a person does not always decide the outcome in a physical confrontation. Most men rely on their greater strength and threat of violence to perpetrate these horrible acts. Skill and knowledge will always overcome brute strength.


In today's world, personal safety has become a main concern. For the average girl or woman, not only is violence a possibility but sexual assault and harassment are on the rise. Although men may aslo be the victims of such behavior, it is far more likely statistically to happen to a woman. This is in part to several factors of which we will touch upon two of the most obvious.
The training of self-defense, taken from tried and tested techniques of the ancient martial art of Kalaripayattu will benefit the individual, his loved ones and eventually the entire society and then the world. A long journey begins with the first step!


Benefits of Kalaripayattu Self-defense For Women :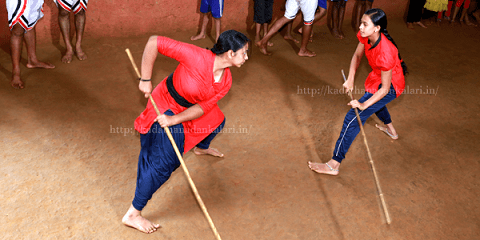 The best martial arts techniques are straightforward and practical, easy to learn and easy to incorporate in a dangerous situation. The use of martial arts weapons may be taught, such as short and long sticks, to help increase both the speed and strength of the techniques as well as creating more distance between the attacker and his intended target.

* Increased level of physical fitness. You will feel stronger in your body, which will impact all aspects of your life from having more energy for your work or your family as well as increasing your longevity. You will not only be alive but you will thrive!
* Increased confidence in your ability to protect yourself and loved one's which will also impact all aspects of your daily life. You will carry yourself through the world differently. Not only will you feel strong but this feeling will be seen and felt by those around you. Most predators look for weak seeming individuals. Yes, they will look at your size but it is how you carry yourself that will usually be the deciding factor to attack you or not. Most of these men are cowards and bullies and are not used to being resisted and when they are they often will remove themselves from the situation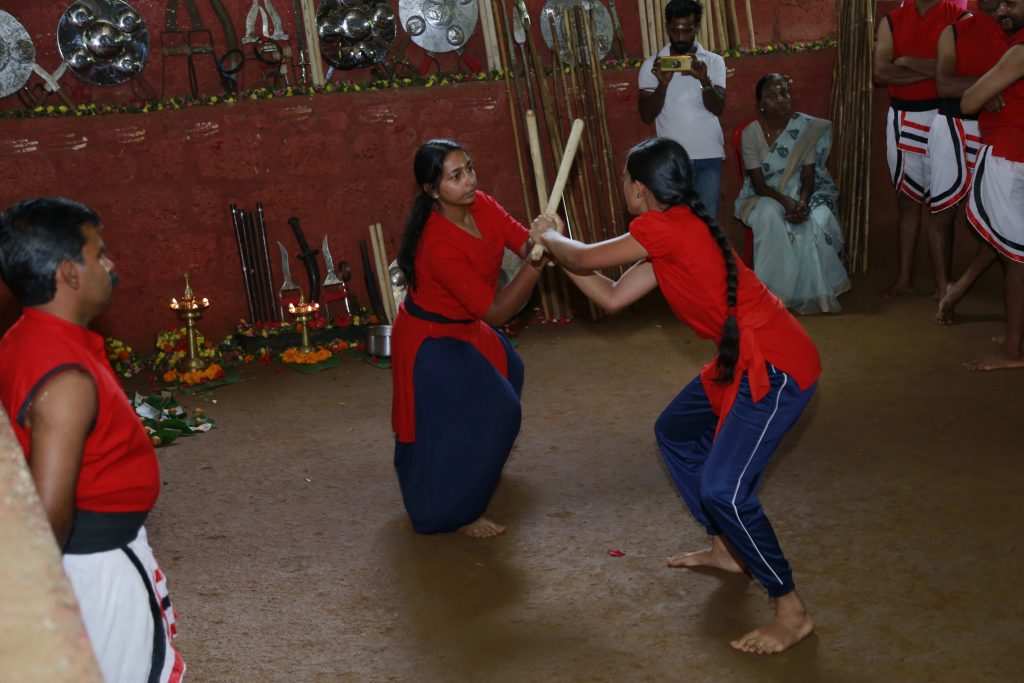 * Increased awareness of one's surroundings and potential threats.Your ability to recognize and nuetralize a dangerous situation before it happens. You will be able to identify everday objects that you may also use as a martial arts weapon. So now you will not only have the tools, knowledge, and ability to avoid a threat, you shall feel confident in your ability to successfully defend yourself and your loved ones using your Kalari fight techniques, if there is no other choice but to defend yourself.

This women's fitness/self-defense course is based on the ancient wisdom of Kalaripayattu, an ancient martial art native to Kerala and adapted to our modern living environment to create a proven method of self-defense. All skill levels are welcome but no prior knowledge of martial arts is required. Women of all ages can practice and may benefit from this course. The general daily routine will include 2 hours of training in the morning and 2 hours in the evening, but it will always be adapted to the individual student's capabilities. Kalari Yoga will also be incorporated. To help with the muscle soreness and fatigue that will accompany any physical training, traditional Marma massage treatments are also available.

Accommodation is provided in a safe and secure environment with the family of the master in clean dormitory style rooms with full bathroom and showers. 3 nutritious South Indian home-cooked meals per day are also included with your stay. The surrounding property itself is a thriving farm with a variety of fruit trees, plants and medicinal herbs, as well as various farm animals to create a picturesque and ideal environment to connect with yourself and with Nature.
Your comment...NameE-mail