VIRTUAL KALARI CLASSES
Online Kalaripayattu Classes
WHY WE DO NOT OFFER ONLINE KALARIPAYATTU TRAINING?
Our Master decided to discuss this with many of his Masters and Grand Masters, & here is
what they say about online Kalaripayattu training: "Only the very few body warming up exercises can be taught online,
but not the actual KALARI ITSELF!"
CHALLENGES IN BECOMING A MASTER BY TAKING ONLINE KALARIPAYATTU CLASSES
• Practice of 13 years is the minimum in order to start understanding the in depth knowledge.
During these years you will mostly be practicing only the physical part of the Kalari, post
which you will be given an opportunity to learn more of theoretical aspects like Marma
points, Massage treatments, Ayurveda, and the Spiritual aspects of Kalari.
• So once you have excelled in all the theoretical aspects of Kalari, post 15 to 16 years of
practice, you will be considered as The Master/Guru.
• Since this art is like an ocean of knowledge, once the person becomes a Master, he doesn't
stop there, but will still try to discover the different forms & techniques of Kalari from
different Gurus. So it's a lifelong learning for the Master too!
ONLINE KALARI CLASSES DON'T GIVE IMPORTANCE TO THE PRESENCE OF MASTER
This form of ancient Martial Arts is supposed to be learnt in the presence of Master and in
the Kalari Yard only.
• As you practise in the presence of Guru, he starts to understand your body and accordingly
prescribes Kalari moves needed for your body, but online Kalaripayattu training makes you more prone to
injuries because it becomes difficult for Guru to understand & analyse your body.
• Now you can place a question as to "Even in online training Gurus presence is there, right?",
But the visual aspects is not as clear as it is in person. Also if you happen to get injured
during the practice, it will not be possible for the Guru to heal you virtually.
• As your practice increases, after a point the master decides to include weapons in your
practice. These weapons require understanding of skills which makes it easier to be taught
in person. Also, for weapon practice you need a partner and the practice should be done
with delicate moves as the possibilities of getting injured from the weapons are high.
• As you progress, you will be taught self-defence techniques which again demands the need of a
partner and The Master himself.
KALARI YARD IS IMPORTANT TO LEARN KALARIPAYATTU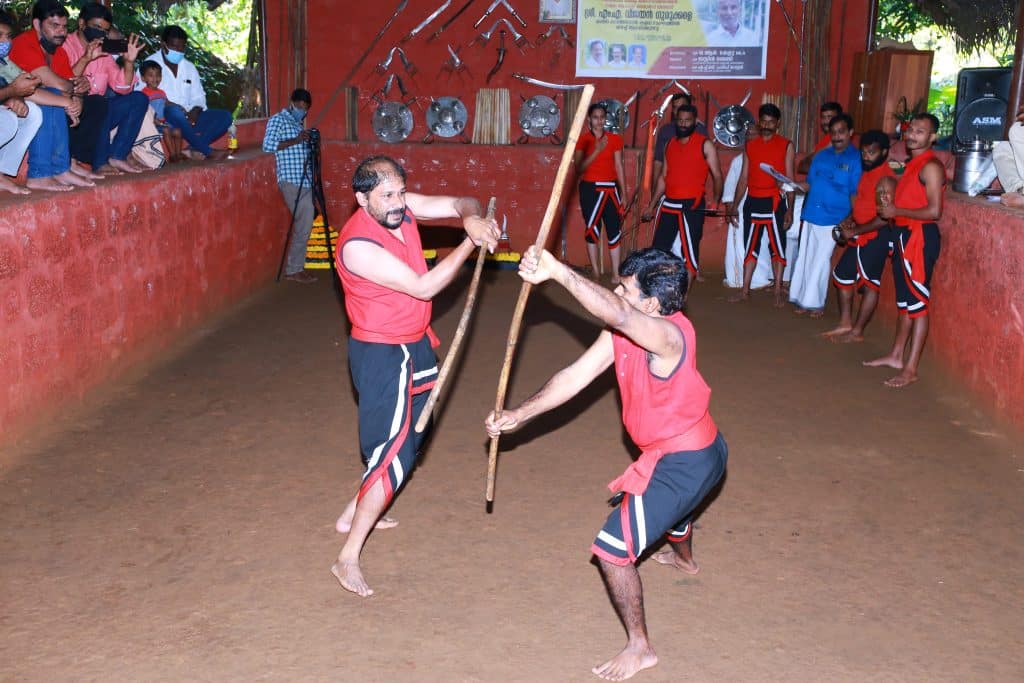 • Your physical & mental presence is both required while you opt to learn Kalari, which is not possible in online platforms.
• Every day before the Kalari practice begins, the first thing to start from is by saluting the
Mother Earth and then light the Diya as a symbol of knowledge, then salute the Poothara
(the seven chakras), the Guruthara (the guru), the Ganapathithara (Lord Ganesha), the
Ayudhathara (the weapons) – these are some of the spiritual aspects of Kalari, only post this
the practice begins, whereas in online platform you will miss out on the spiritual aspects.
• Prior practice – Kalari oil is applied all over the body, specially on the joints – this helps in
terms of flexibility, avoids body soreness, increases immunity. According to Ayurveda, twice
a week medicinal oil bath is a must in order to increase your immunity. Kalari oil is a
medicinal oil made of 30 herbs which while practicing gets absorbed into the skin as the
pores are open during the practice, moisturises the skin too – this again becomes difficult
online in terms of availability of the oil and also the Kalari ground makes sure you don't slip
off with the oil on your skin. But if you don't have the access to the Kalari ground then there
are high chances of slipping getting injured.
Considering all these vital points, our Master chooses not to provide virtual Kalari classes and
by doing so he holds onto his ethics of not doing online classes just for the sake of it.

Why Kalari training centres have not spread all over?
The above explanation is the answer itself – to be a master it takes a lot of years of hard work
and dedication so anyone and everyone cannot call himself/herself a master and come up with
a centre!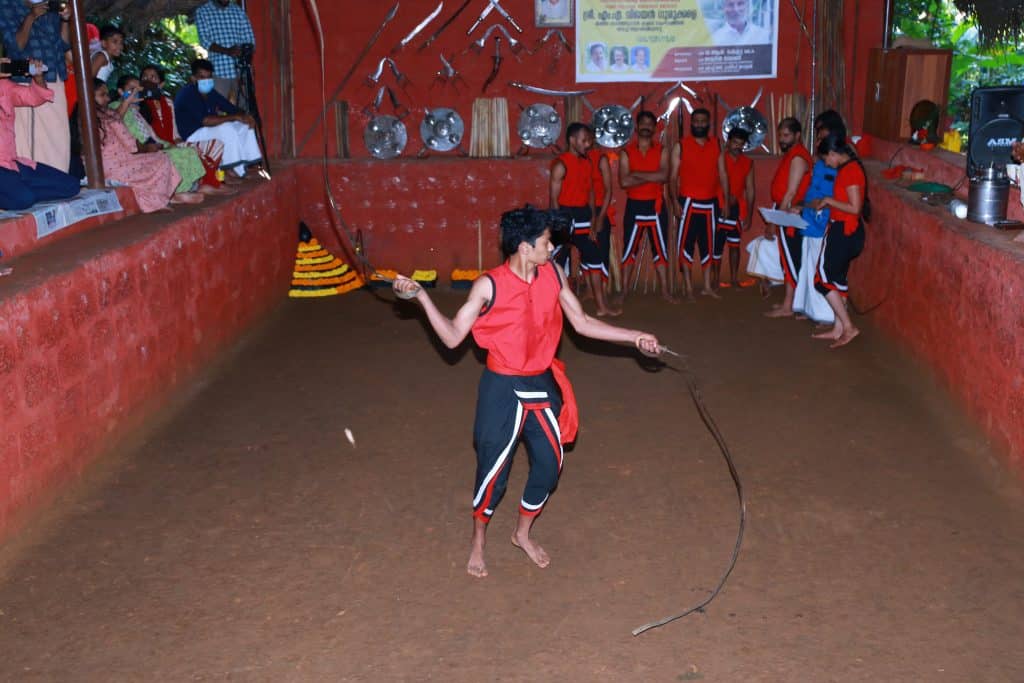 THE GOOD PART
• Nonetheless for the ones who are really interested in learning but are not located here, our
Master gives them the opportunity to come stay here and learn for 2 to 3 months or even more.
• To keep up with their practice they can keep visiting yearly or half yearly and this way try to
progress in Kalari.
Your comment...NameE-mail