Hanshi Tesuo Taka Miyagi : Okinawa Karate Grand master
Okinawa Karate Grand master Hanshi Tesuo Taka Miyagi was born in Okinawa (Okinawa is a group of islands off the South coast of Japan) , Japan, December 17th, 1942.  He began training in Okinawan karate in his early childhood and was able to study under such Masters as Eizo Shimabuku, Seikichi Uehera, Shian Toma, Tairo Ryo Shu and Togushi.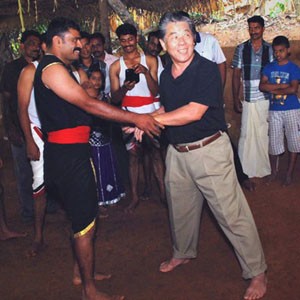 Shorin Ryu- Shorin is the Okinawan pronunciation of the Chinese word Shaolin, as in Shaolin Temple, Ryu means "style" in the Okinawan language. Shorin Ryu- is characterized by a focus on natural breathing, natural "high & narrow" stances, and with more circular rather than direct movements. Hanshi Tetsuo Taka Miyagi has developed a highly effective training program aimed at body fitness and self defense. The movements emphasize smooth, fluid, flexible motions.
Taka Miyagi uses a special shaking technique to promote looseness and flexibility in the body to perform movement without tension.To share this unique and easily adapted approach he has visited the Americas and Europe and has been to India several times. In 2013, he paid a visit to Kadathanadan Kalari Sangam in Wayanad, where he gave classes to a number of Instructors and trainees. The students were impressed with his vast amount of information in the areas of body fitness and various martial art fighting "styles". They were very appreciative and grateful to have this expert knowledge shared with them. "One can feel the effectiveness of his training system on the mind and body and the energy prana(chi), especially the techniques of the "soft" style systems.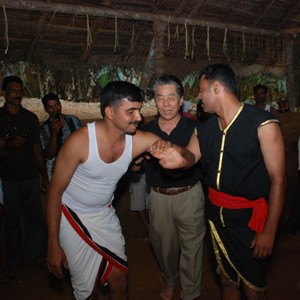 The Okinawan Shorin Ryu- Karate Association is located in Okinawa, Japan. Hanshi Tetsuo Taka Myagi is the International Director. Taka Miyagi holds the ranks if 10th Dan in Karate, 8th Dan in Kobudo, and 7th Dan in Motobu Uden Ti .
Your comment...NameE-mail