Kalaripayattu shows | Cultural programs
Kalaripayattu Exhibition
We provide Kalaripayattu show & demonstrations for various types of events, for example as a stage show, a celebration, a cultural awareness program or any other event where a beautiful combination of art, movement and martial arts would be appreciated. Usually, a 30 minute event is performed although shows of longer duration can be accommodated, including various types of Maypayattu (traditional movement forms) and weapons skill displays
Through our shows, our goal is to introduce the " Mother of all Martial Arts" called Kalaripayattu, to people all over the world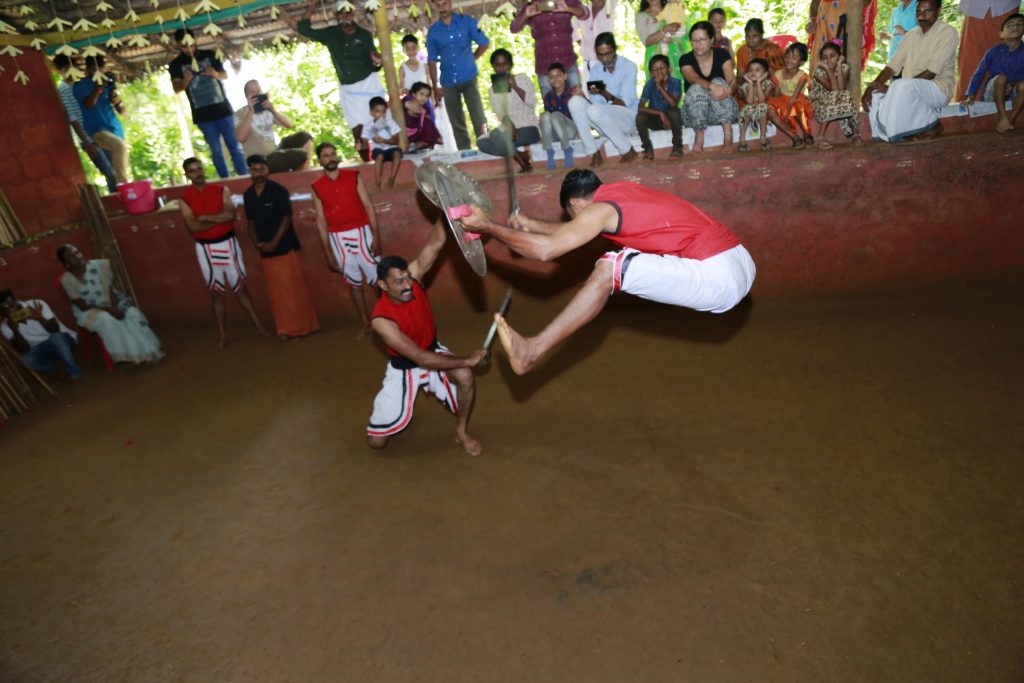 Kalaripayattu Shows For Schools and Colleges
Kadathanadan Kalari Sangam is constantly seeking to inspire a new generation of students to take up the sport. Students at schools and colleges always enjoy watching members of the Sangam perform. They will also learn a thing or two about an ancient Indian tradition. The Kalaripayattu performers will usually be in school or college themselves – we try to use student who are the same age as the audience.
Festivals
There are countless numbers of festivals that occur across India for a huge variety of reasons and causes. Whether a festival is held at a church, temple or any other community hub a Kalaripayattu demonstration is will provide just the right combination of tradition and excitement to make the occasion a memorable one.
Kalaripayattu Shows in Resorts and Villas
Impress guests at your resort or villa by providing an authentic taste of traditional Kerala. Tourists from outside Kerala or India will be amazed by a live demonstration of India's ancient martial art. Along with the demonstration the shows can also include educational commentary to teach the audience about the history of Kalaripayattu and its weapons
Kalaripayattu Shows in the Sangam
For schools or groups of tourists visiting the local area in Wayanad we are more than happy to put on shows in our own Kalari. The show will include live Kalaripayattu demonstrations as well as some educational comments from the masters.
Bharathanatyam
Bharathanatyam is a classical from of Indian dance that originated hundreds of years ago in Tamil Nadu. The dance is famed for its unique style that involves a fixed upper body and bent legs that perform hypnotically fast footwork to fast paced music. The dancer also performs a dance with the hands as they tell a story with complex gestures and sign language.
At your request a live performance of Bharathanatyam can be arranged to accompany one of our Kalaripayattu shows.
At your request a live performance of Bharathanatyam can be arranged to accompany one of our Kalaripayattu shows.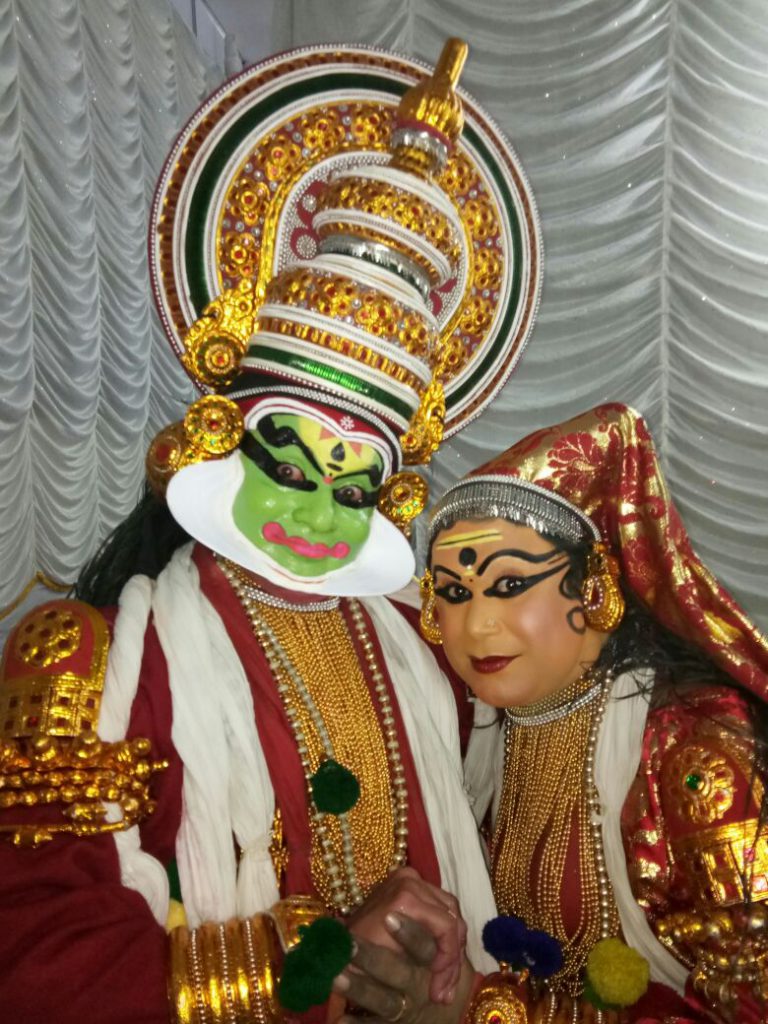 Kadhakalai
Kadhakali is a traditional South Indian art form that is heavily influenced by Kalaripayattu. A performance resembles a rare combination of Kalaripayattu and Natishastra (classical Indian dance) and many Kalaripayattu movements can be seen in the routines. Specifically kicks, stretches bends and somersaults from Maipayattu and the sword and shield fighting are instantly recognisable aspects of Kalaripayattu that appear in Kadhakali.
A Kadhkali performance – lasting a minimum of twenty minutes – can be arranged on request to be performed at one of our Kalaripayattu shows.
Mohiniyattam
Originating well over a thousand years ago the Mohiniyattam is an important part of Kerala's cultural history. Mohini is the name of a female avatar of Vishnu in Hindu mythology. She is sometimes known as 'the seductress'. An attam is a Kerala dance and so Mohiniyattam means dance of the seductress. It is a solo dance routine performed by a female, often in a temple or at a religious festival.
A Mohiniyattam can be arranged on request to be performed alongside our Kalaripayattu shows.
Kuchipudi
Dating back to around 200 AD Kuchipudi is a traditional South Indian dramatic dance performance that never ceases to impress its audience. Traditionally the routines were performed by an all male cast, even the female roles were played by men in make-up and dresses. Today, however, women participate just as frequently as men.
A Kuchipudi performance is a fantastic accompaniment to a Kalaripayattu demonstration. One can be arrange upon request.
Kerala Natanam
Kerala Nathanam is a relatively new strain of dancing style that originated in Kerala as an evolution from Kathakali. The dances involve costumed performers who put an emphasis on fluid body movements, hand gestures and exaggerated facial expressions.
Kerala Natanam performances can be arranged on request to accompany our Kalaripayattu shows.
Theyyam
A Theyyam is an artistic performance that could be described as a mix between dance and Kalaripayattu. Usually it is performed at temples and its participants dress up and pretend to be the gods and goddesses of the hosting temple. Accompanied by a chendra (a traditional Kerala drum that, legend says, is impossible not to dance to if heard) the costumed performers dance while holding weapons of the Kalari. Swords, shields, spears and urumi are often used.
A twenty to thirty minute Theyyam performance can be arranged on request to accompany one of our Kalaripayattu shows.
Contact us if you are interested in having this program as part of an event, stage shows, celebration, cultural program etc.

Your comment...NameE-mail